Whether you're looking for vacation adventures in a traditional travel trailer or a funky new design that's sure to turn heads, Your RV Lifestyle has compiled 15 of the best teardrop trailers on the market today. In no particular order, let's take a look:
1. Polydrops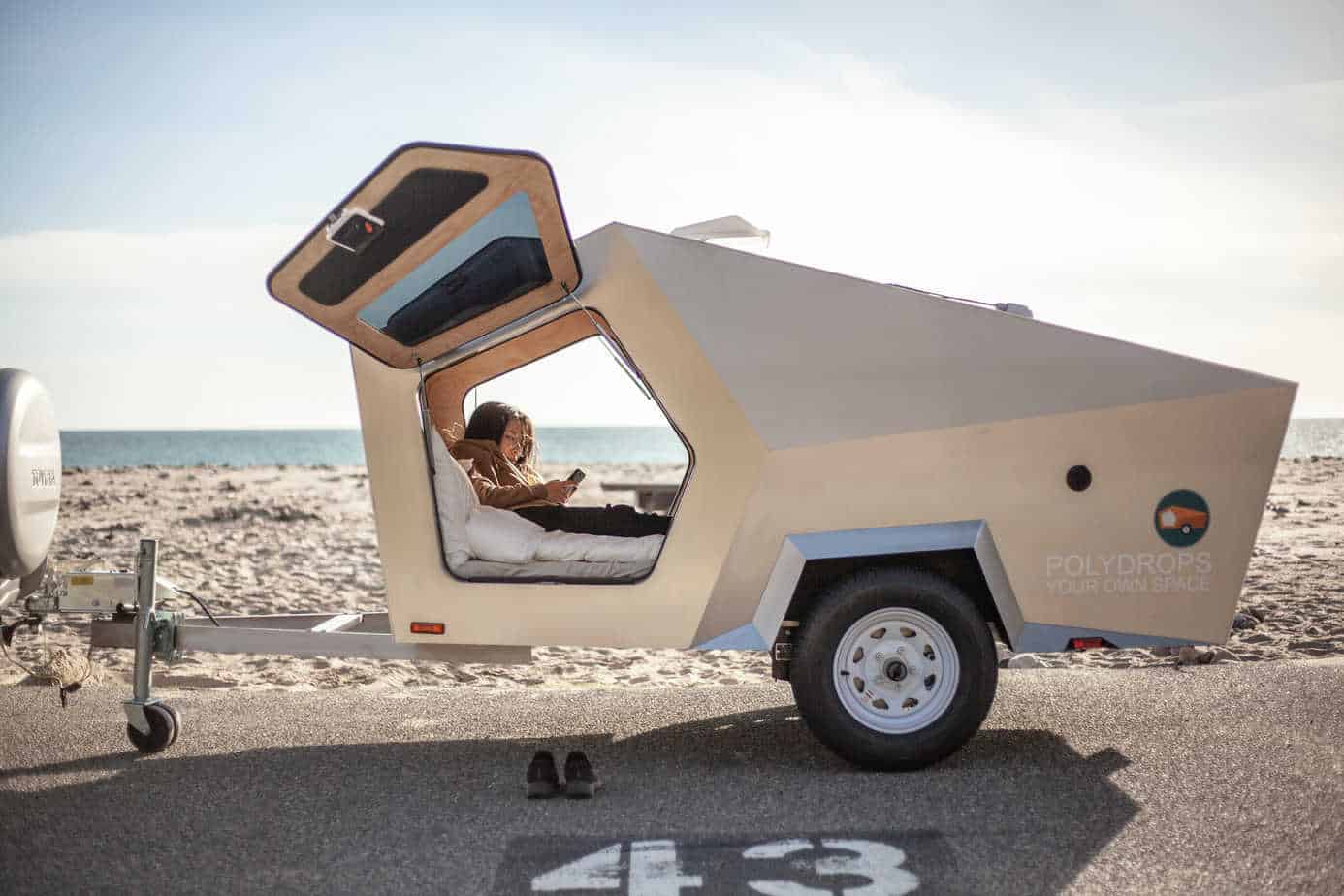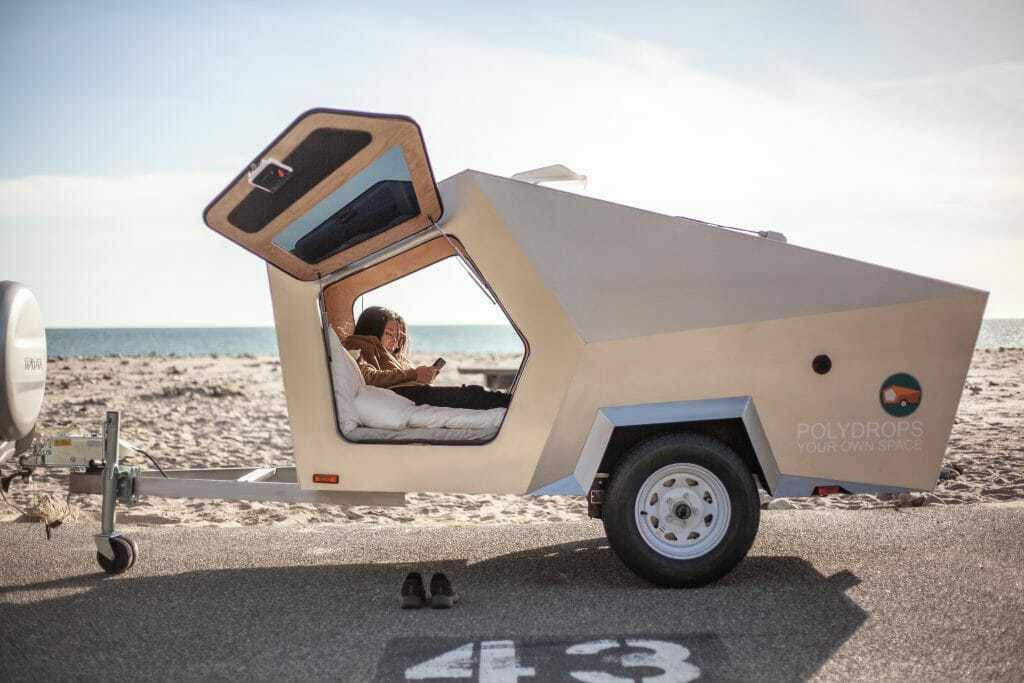 Modern, hip design of Polydrops
If you're wanting the functionality of a traditional small trailer but with a totally modern look and maybe even a slight spaceship vibe, you're sure to be as intrigued by Polydrops of Alhambra, CA, as we are. Polydrop states: "This isn't a camping trailer. It's your own space that you can travel with."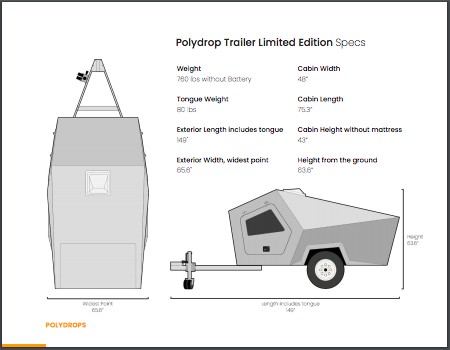 While it doesn't have a bathroom, we love the LED lights, gull-wing doors, and the convenient USB outlets, as well as knowing the Polydrop has hydraulic disc brakes. There's a galley with 2 storage drawers, a cabinet to hold electronic devices and a solar charger. The thick wall insulation (up to 8.2") and aluminum exterior ensures you'll be warm during the winter months.
Weight: 760 pounds
Size: 149" x 65.6"
Number of Guests: 2
Limited Edition 2019 Price: $9,000
Specs: Polydrops
2. American Teardrop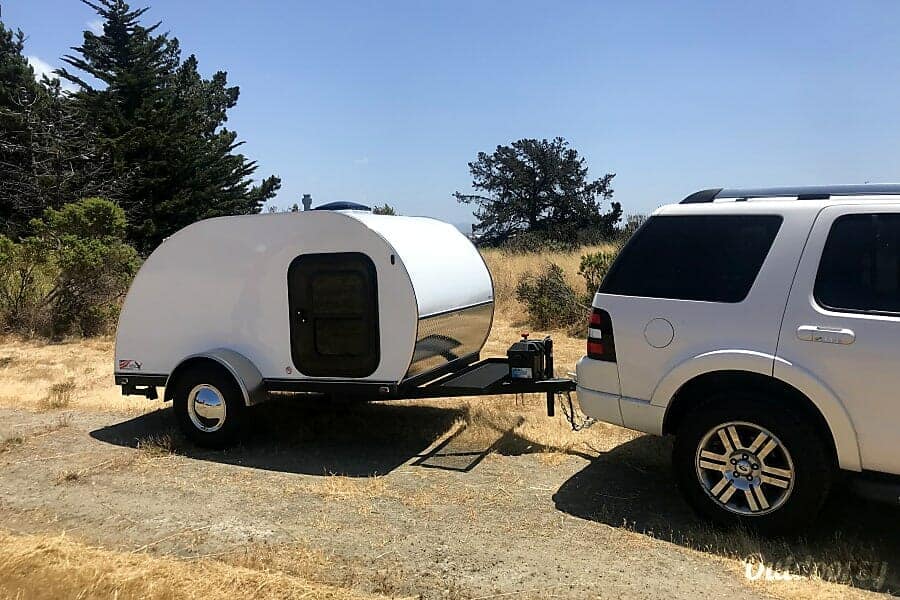 The classic design of the American Teardrop Trailer
If you're looking for a classic custom-designed trailer, check out American Teardrop located in Auburn, California. Their small production of about 40 trailers annually ensures your trailer will proudly be made in the USA. 
Currently the American Teardrop line-up offers 5 models, including the popular Harrier with its attractive storage options. The classic package Harrier option complete with a California king-size bed, a power fan, solar charger and a deep-cycle battery, plus a window for stargazing, a sleek aluminum exterior, and a galley with a stainless countertop and a sliding stove.
There's no bathroom, but the American Teardrop trailers can be customized with lift kits and skid plates, as well as built-in stoves, ice boxes and bottom drawer storage. Of course, you can always add custom paint, graphics or colors to really make your teardrop trailer uniquely yours.
American Teardrop Harrier
Weight: 1,005 pounds
Size: 6'1" x 10'
Number of Guests: 2-3
Factory Direct Price: $11,645
Specs: American Teardrop Harrier
3. Droplet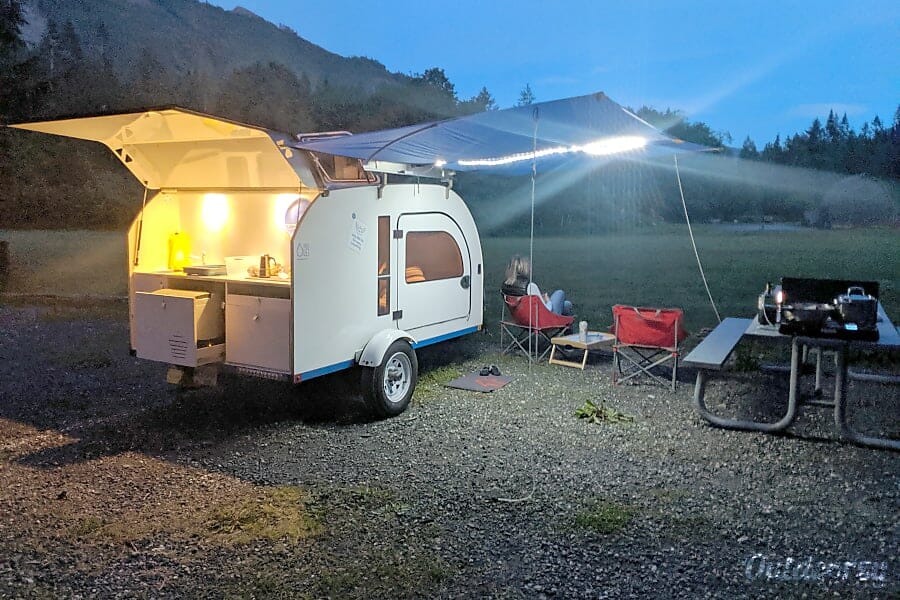 The cute Droplet 2019 is ideal for weekend getaways
Based in Burnaby, BC, the Droplet offers up an impressive, bronze-tinted, half-dome front window providing both heat control and a nice degree of privacy. It's also ideal for stargazing while you're in the great outdoors.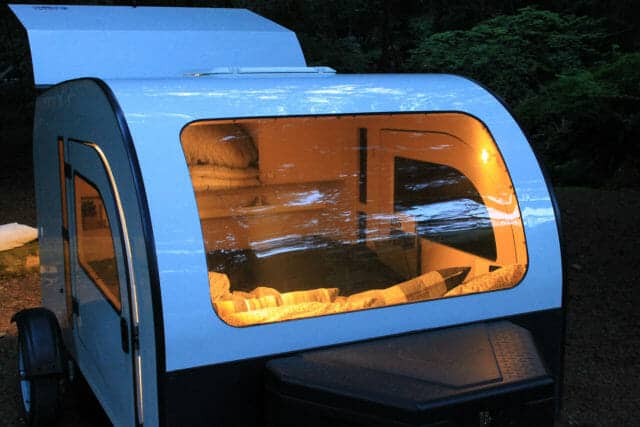 While there's no bathroom option with the Droplet, you're able to fit your own storage solutions into the Droplet Naked or go with the Droplet Base Package which provides a pair of cabinets and shelves, a queen-size bed and LED lights for reading, plus a galley outfitted with an acrylic countertop/backsplash, a sink and a slide-out fridge. 
Droplet
Weight: 950 pounds
Size: 6'6" x 12'5″
Number of Guests: 2
Price: Droplet Base Package $17,950 Canadian
Specs: Droplet
4. Armadillo Trailer Manufacturing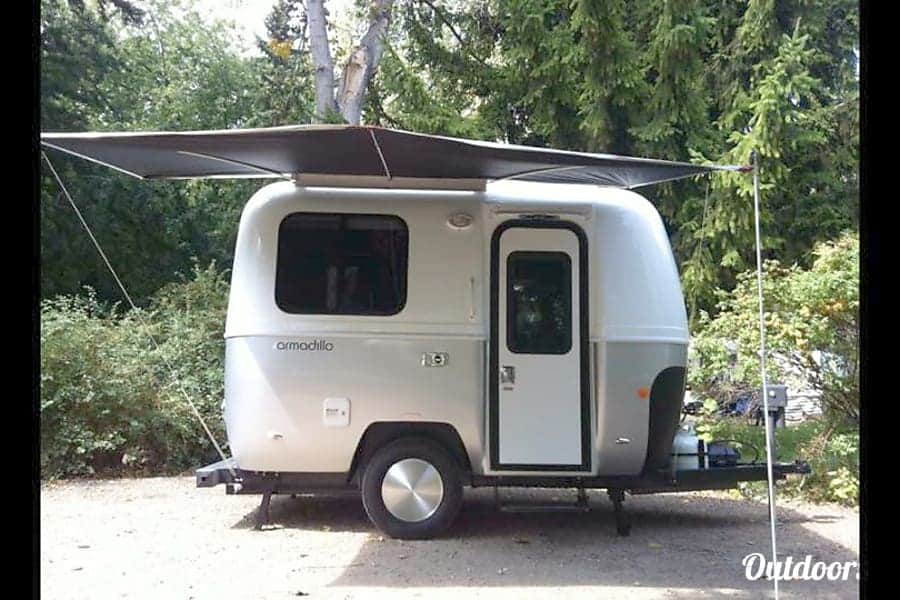 The adorable Boler-style design by Armadillo Trailer Manufacturing
Does this design look familiar? It's because the classic Boler trailer lives again! This Canadian icon of the 1960s-80s has been revived by using authentic Boler moulds purchased by Armadillo Trailer Manufacturing of Armstrong, BC. 

The Boler-like Armadillo trailers featuring two-piece fibreglass shells are highly-customizable by offering choices for both interior laminate and fabrics. Kitchens, closets and convertible dinettes are included in all Armadillo models. Optional features such as portable toilets, front bench seats and/or bunk beds ranging up to triple are available.
Armadillo
Weight: 1,800 pounds
Size: 7'6" x 6'8"
Number of Guests: 2
Price: $25,900 Canadian
Specs: Armadillo
5. Hütte Hut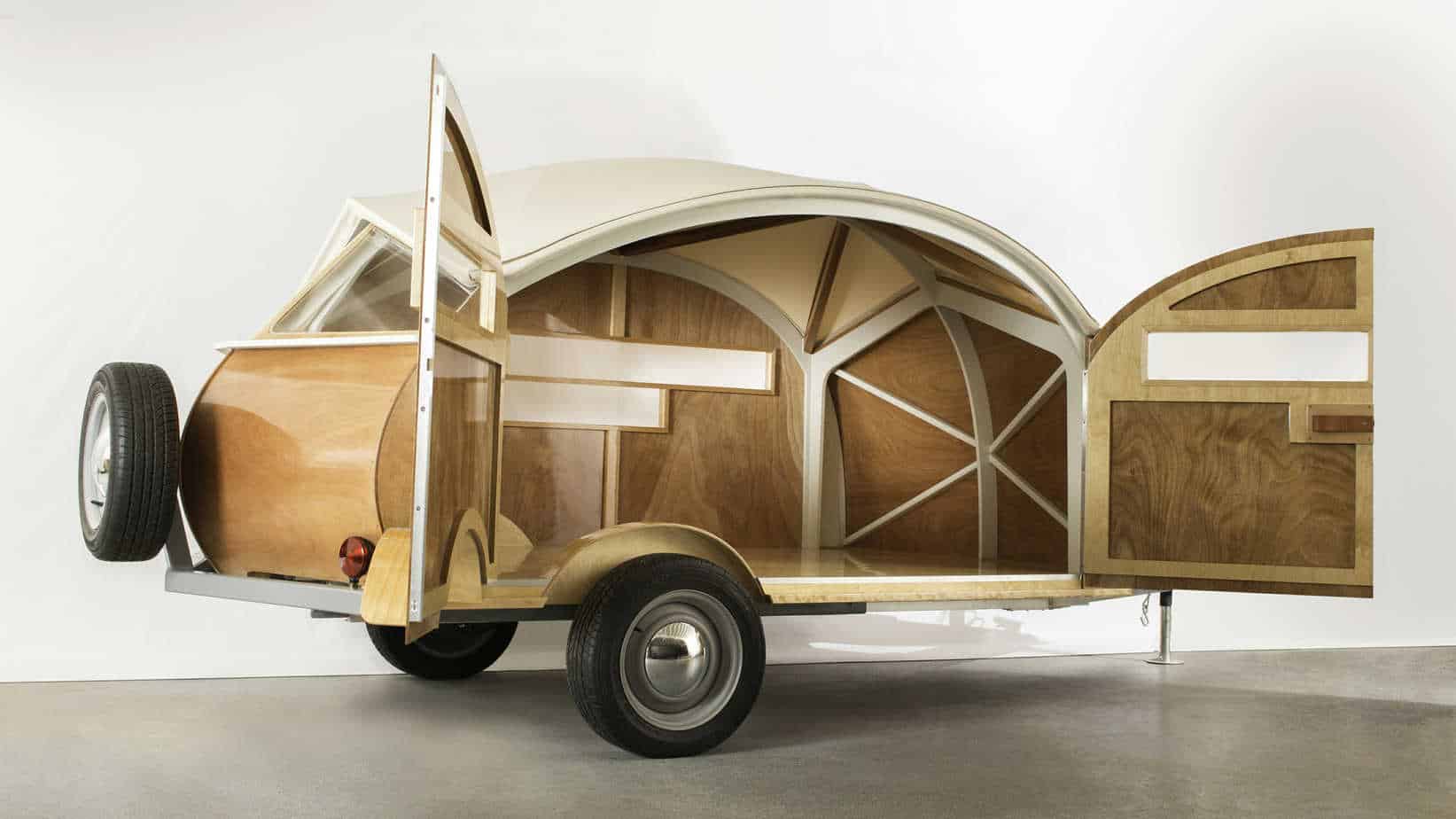 The spacious interior of the Hütte Hut
As a division of Sprouting Sprocket in Carpinteria, CA, the Hütte Hut trailer is a high-end, wood-lover's dream come true. With precision craftsmanship and those gorgeous baltic birch woodgrains, the Hütte Hut features plant-based epoxy cabin construction and a lightweight aluminum space frame.
While there's no bathroom, the unique canvas top allows diffused light to give a nice glow to the trailer, providing a warm, homey, almost cabin-like feel, in addition to that beautiful wood found throughout.
Hütte Hut
Weight: 900 pounds
Size: 14' x 6'6"
Number of Guests: 2-3
Price: $63,900
Specs: Hütte Hut
6. The Little Guy Mini Max from Liberty Outdoors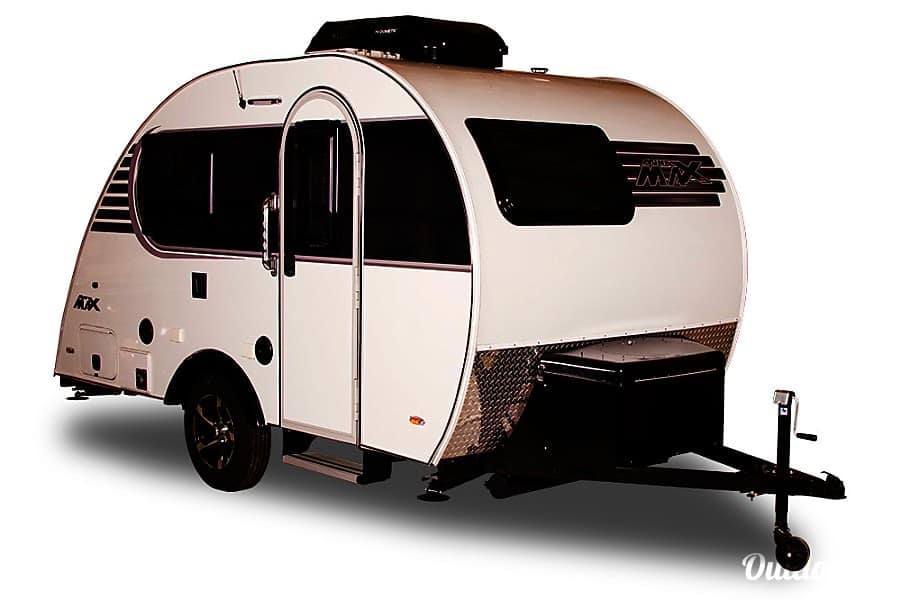 2019 Little Guy Mini Max w/Off Road Upgrade and Solar 
Manufactured in Somerset, PA, the Little Guy Mini Max offers a spacious interior and comes with a 2-year warranty. And don't let its name fool you, this little guy is loaded with features you're sure to love.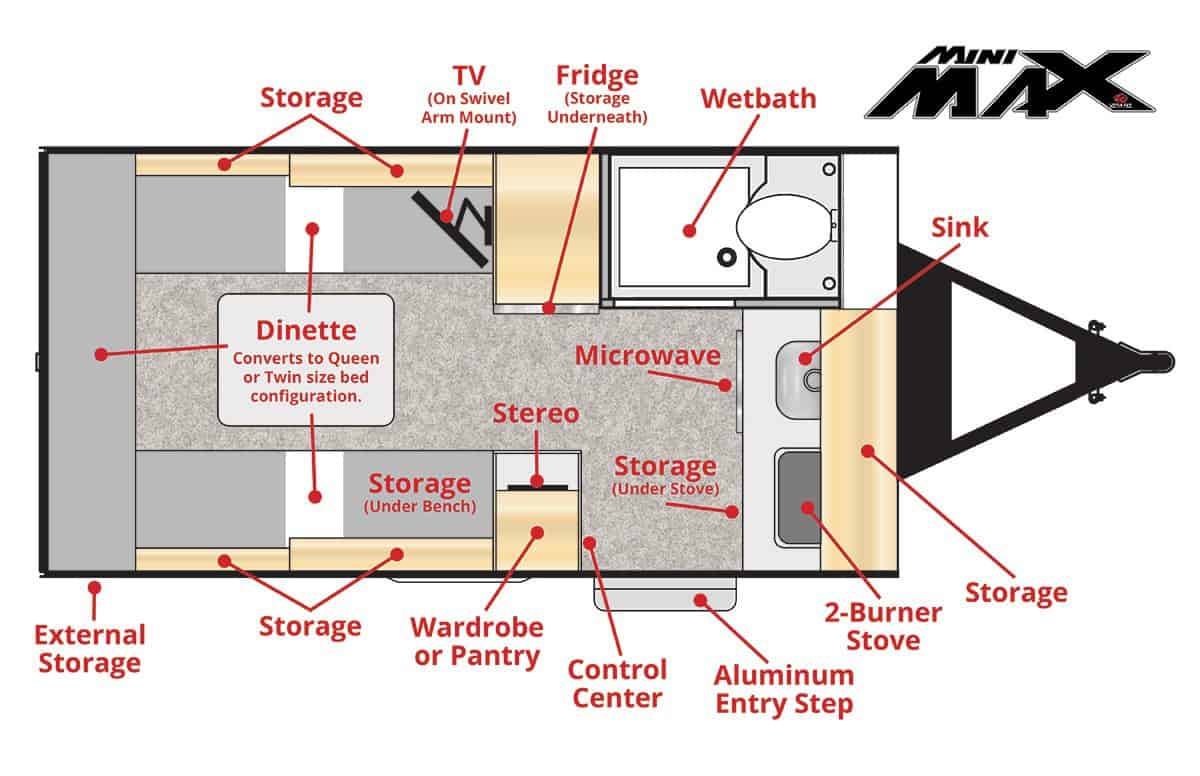 Here's what you'll find inside: a kitchen with maple cabinetry, a generous 5-cubic foot fridge, a 2-burner stove, a microwave, and a good-sized sink, plus a convertible dinette and a convenient wet bath. There are 4 large windows and the Little Guy Mini Max sports a spacious 6'-high interior.
Little Guy Mini Max
Weight: 1,993 pounds
Size: 6'9" x 17'2'
Number of Guests: 2-3
Price: n/a ????
Specs: Little Guy Mini Max
7. iCamp Elite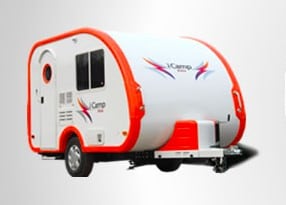 iCamp Elite
Manufactured by CenTech Specialty Vehicles, and distributed by United Recreational Vehicles in Hackensack, NJ, the compact iCamp Elite offers a bathroom, and a kitchen featuring high-gloss cabinets, a fridge, a stove and a convertible dinette area. LP gas and smoke detectors are also part of the standard package.
The iCamp Elite comes with a powered roof vent, electric brakes, and a steel frame with powder coating, plus there's a porch light, and both window and door screens. Available options include an iPod connection, a flat-screen TV, a LP furnace or an air-conditioning/heat pump.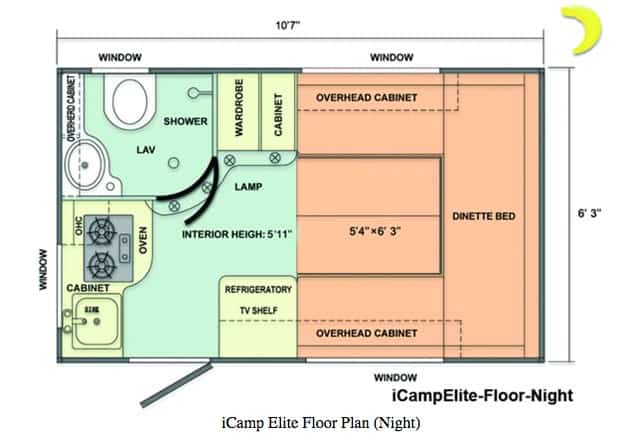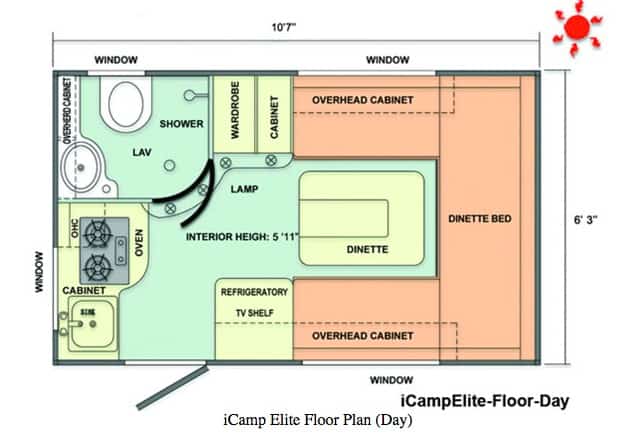 iCamp Elite
Weight: 2, 366 pounds
Size: 14' x 6'8"
Number of Guests: 2-3
Price: approximately $15,995
Specs: iCamp Elite
8. Classic Fitted Barefoot Caravans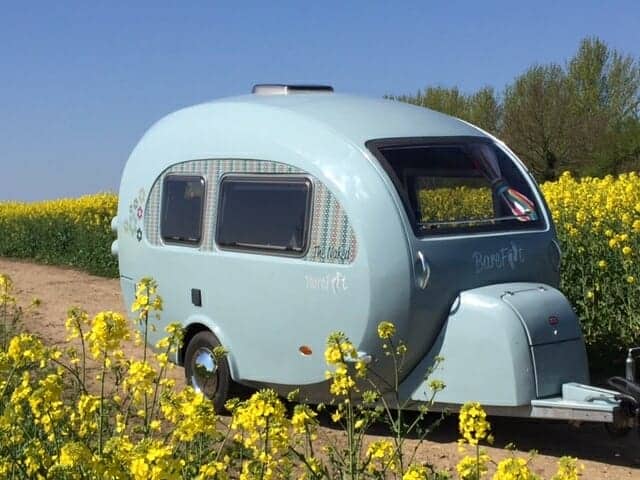 Spacious window and retro feel of the Classic Fitted Barefoot Caravans
If you're looking to go camping in 2020 in a great retro-style teardrop with a British touch, you're in luck. Barefoot Caravans of Gloucestershire, England, is scheduled to start production of it's Classic Fitted caravan in conjunction with nuCamp RV for the North American market next year.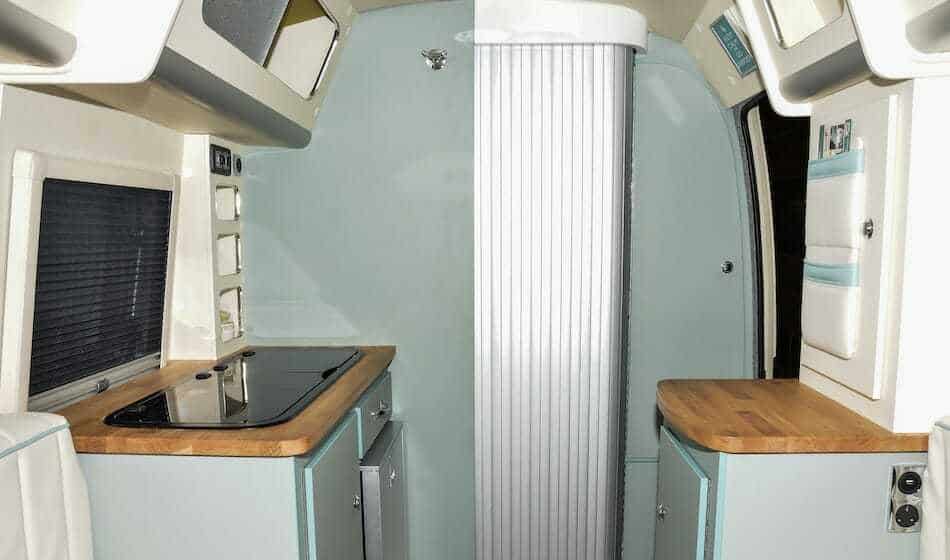 This trendy, fibreglass trailer with its fun egg-shaped design offers a sleek interior featuring a curved bathroom with a toilet and shower, plus plenty of cubby holes for storage, as well as a galley that comes complete with a two-burner stove, a sink and a fridge.
Classic Fitted Barefoot Caravans
Weight: 2,094 pounds
Size: 16'7" x 6'3"
Number of Guests: 
Price: £25,500
Specs: Classic Fitted Barefoot Caravans
9. HC1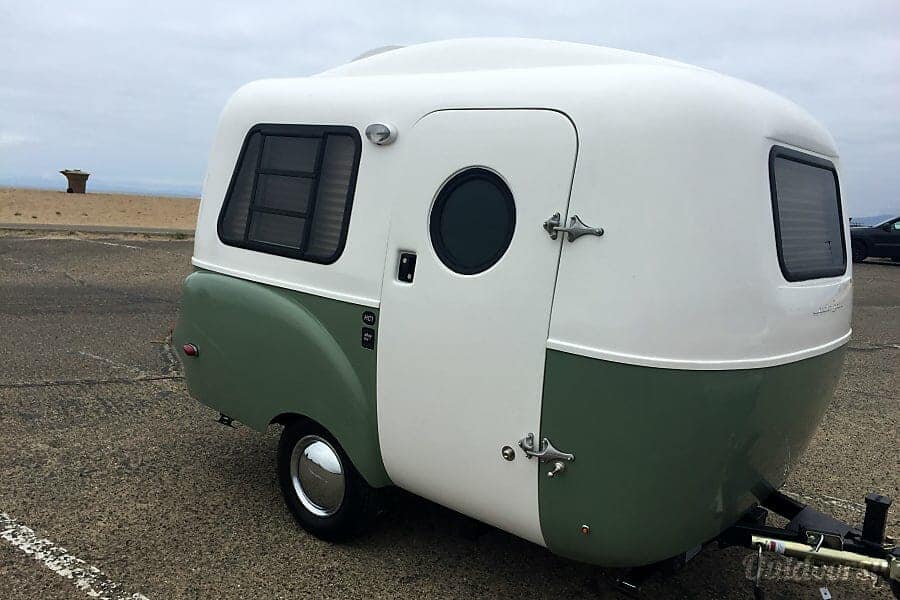 The adaptable HC1 by Happier Camper
Built by Happier Camper of Los Angeles, CA, the HC1 seamlessly melds a combination of retro styling with a versatile adaptive modular interior which can be reconfigured into a number of different layouts. The HC1 also features a large rear hatch and panoramic windows. 
Available components within the completely convertible interior include options for table tops, counters, cushions, toilets, ice boxes, and kitchenettes with sinks. Simply remove components to allow room to load sports equipment, or add cushions making enough room for up to 5 people to sleep comfortably.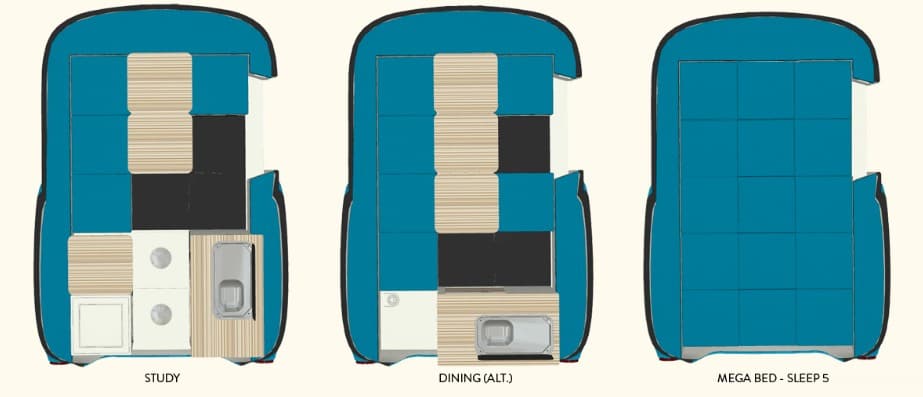 HC1
Weight: 1,100 pounds
Size: 13' x 6'11"
Number of Guests: up to 5
Price: $24,950
Specs: HC1
10. XTR Weekender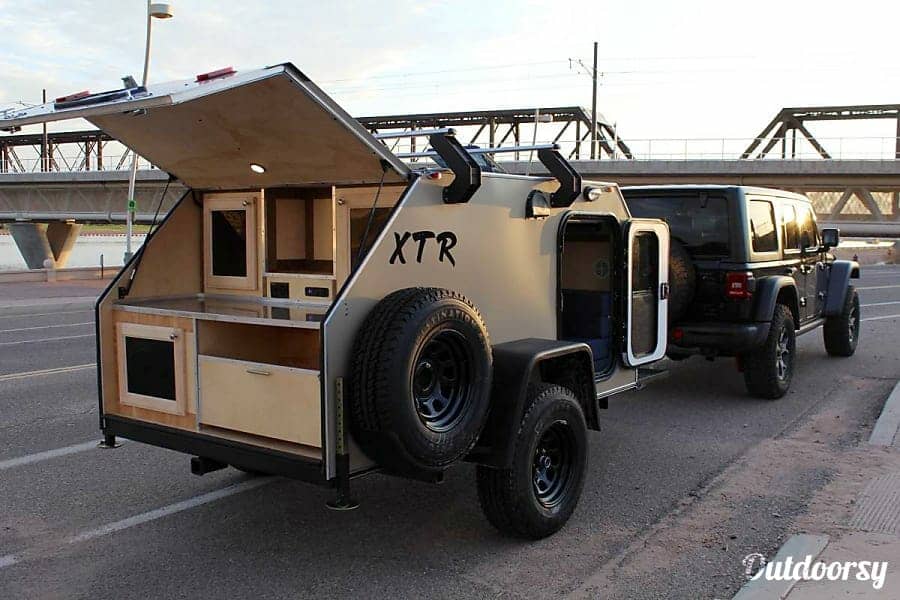 The rugged yet practical VTW XTR Off-Road Trailer
If you're looking for an off-road teardrop trailer, the base XTR Weekender from Extreme Tears in Charlevoix, MI, offers a convertible queen size mattress and a galley with a stainless countertop.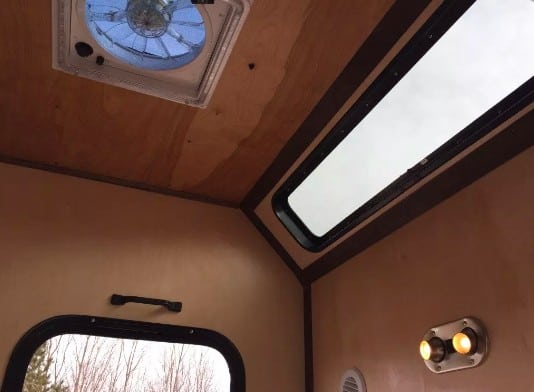 While there isn't a bathroom, there are upgraded options offered such as roof racks, a stargazer window, a side mounted barbecue grill, and entertainment packages, along with a 50W solar or a 12V power package.
XTR Weekender
Weight:  1,400 pounds
Size: 8' x 5'
Number of Guests: 2
Price: $8,995
Specs:XTR Weekender
11. Timberleaf Teardrop Trailers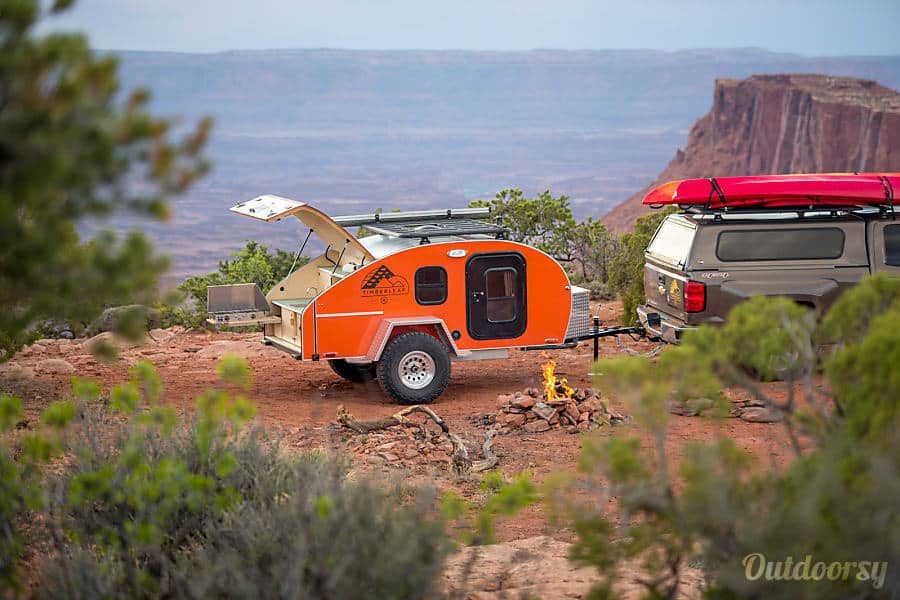 There's something so appealing about the color of this Timberleaf Teardrop
Built in Grand Junction, CO, the sporty Classic Teardrop base package includes a queen-size mattress, almost 20-square-feet of formica counter tops, a rear galley and a 44" x 26" tinted skylight. The R-11 insulation ensures you'll be comfortable in both winter and summer.
If you'll be heading into more rugged terrain, there's an optional off-road package offering an articulating hitch, electric drum brakes, a 4" lift and a Timbren Axle-Less suspension.
Classic Teardrop
Weight: 1,400 pounds
Size: 14' x 6'6"
Number of Guests: 2-3
Price: $21,500
Specs: Classic Teardrop
12. Big Woody Ultimate Teardrop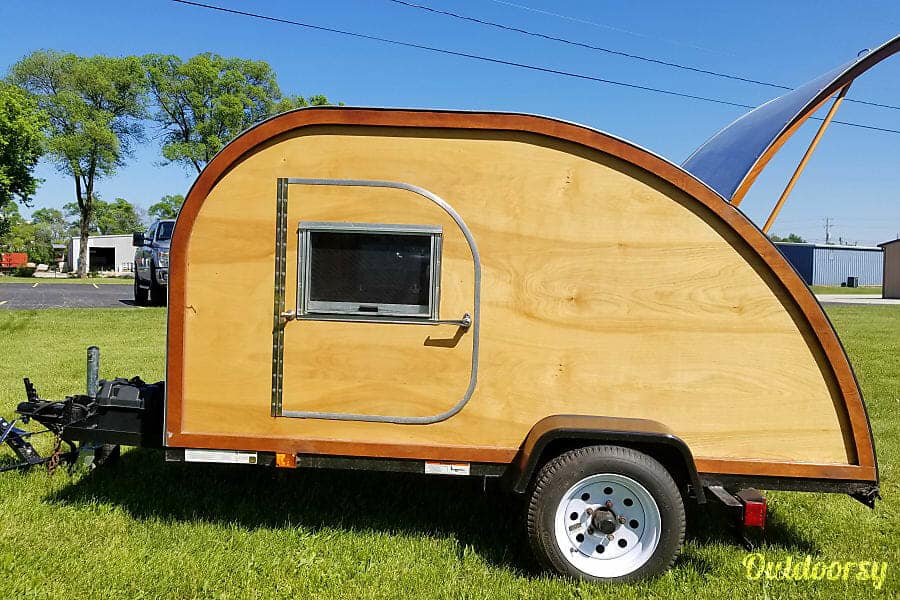 The classic look of the 1950s style-Big Woody Teardrop Trailer
The retro-style design of the Big Woody Ultimate Teardrop Camper is appealing in itself, but add in double galley sinks, a wine rack, cedar-lined storage, side tables and patio lights, and you'll be camping in style in no time. 
Big Woody is currently only selling parts and accessories, 4 different plan options, and kits including electrical and galley, for you to build the Ultimate Teardrop yourself. 
Big Woody Ultimate Teardrop Camper
Weight: 1,000 pounds
Size: 4' to 6' in length
Number of Guests: 2
Price: $13,789 build-it-yourself
Specs: Big Woody Ultimate Teardrop Camper
13. Cricket
The pop-up roof of the 2019 Taxa Outdoors Cricket 
Built by Taxa Outdoors of Houston, TX, this rugged trailer with a pop-up roof sports great cross ventilation through its 4 swing/5 mesh windows and an open, spacious feel.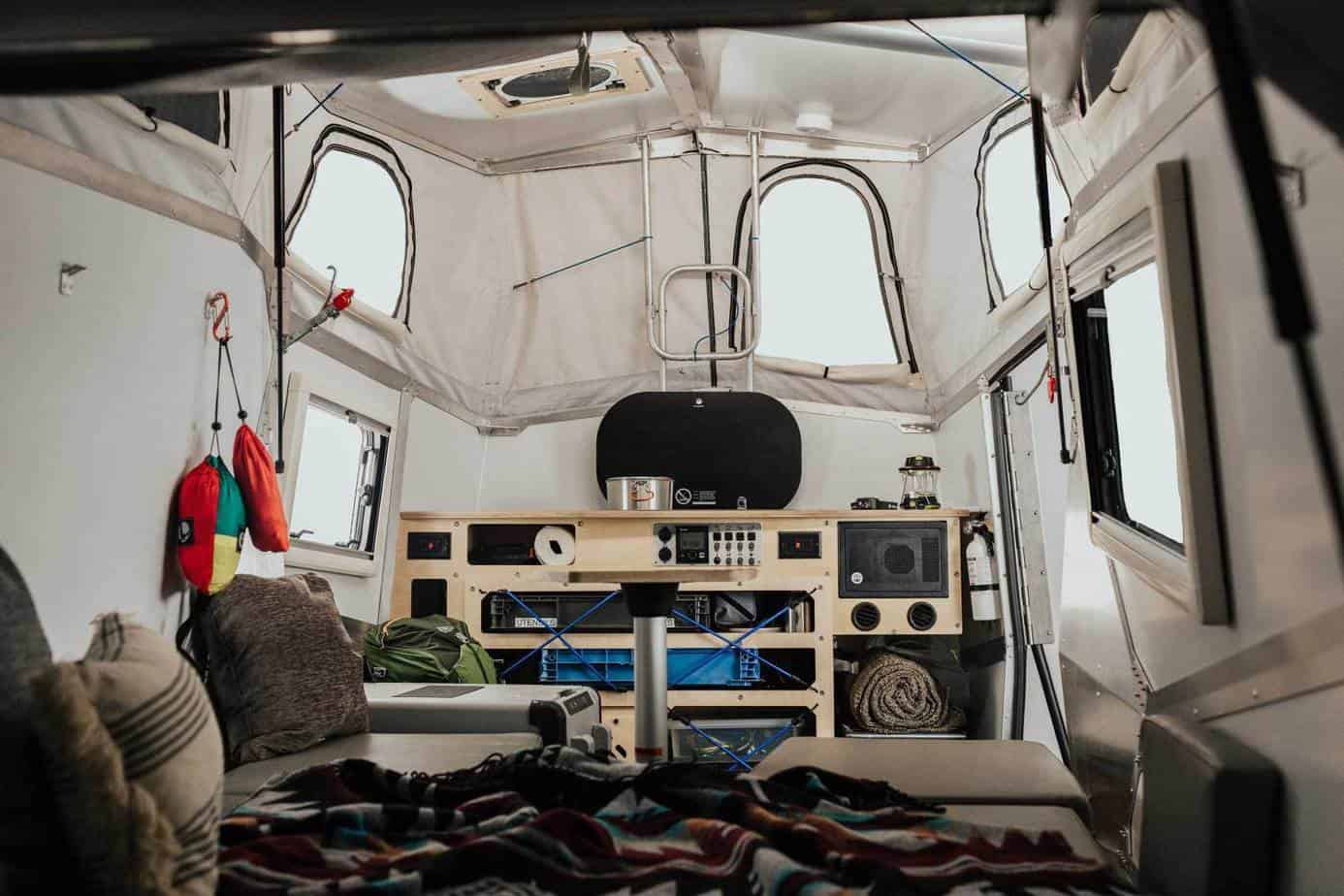 Additional features include under-the-bed storage, a picture window, a large galley and LED lighting. A portable toilet and a shower tent are optional, as are a fridge, roof load bars, an awning and a hanging berth for kids.
Cricket
Weight: 1, 732 pounds
Size: 15' x 6' 7"
Number of Guests: 2 adults, 2 kids
Price: $28,857
Specs: Cricket
14. Nest by Airstream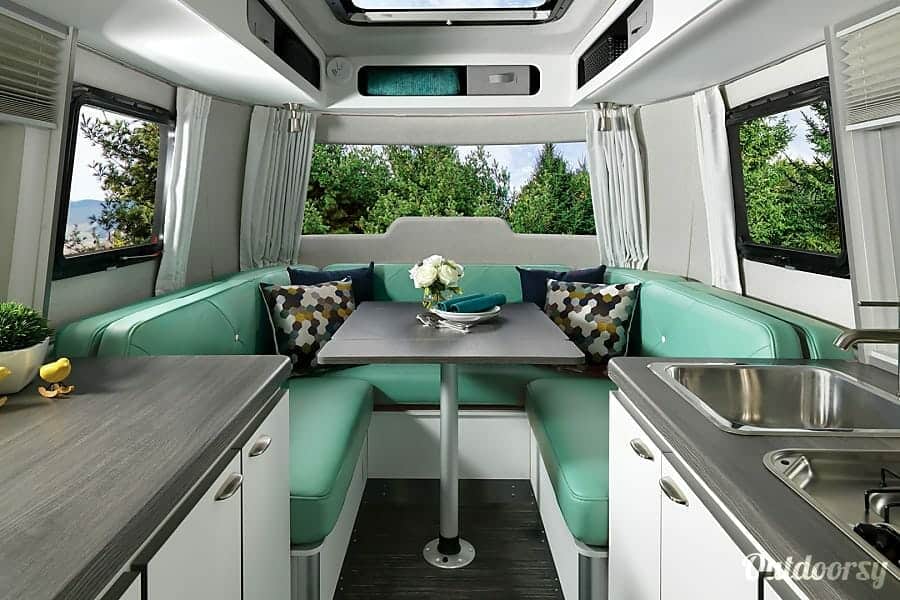 The gorgeous sleek interior of the 2019 Airstream Nest
Think Airstream is all about aluminum? Their hip Nest travel trailer has a fiberglass body, Bluetooth controlled LED lights, tons of storage, a bathroom, and a generous galley with a microwave, a fridge and handcrafted Italian cabinetry. 
And the bonus here? Nest also comes with both a 3-year warranty and a roadside assistance package. Air conditioning and heating come standard.
Nest
Weight:  3,400 pounds
Size: 16'7" x 7'1"
Number of Guests: 
Price: $42,900
Specs: Nest
15. Scamp 13' Standard Trailer
Easy towability of the 2019 Scamp Standard 13'
The cute Scamp Standard trailer offered by Scamp Trailers of Backus, MN, is lightweight and easy to set up. It features R-15 insulation and rear mounted stabilizer jacks.
The fiberglass Scamp comes standard with a double bed, and your choice of either a bathroom or a convertible bunk bed area. A galley area offers an ice box, a two-burner stove and a sink. Air conditioning and furnaces options are available.
Scamp 13' Standard Trailer
Weight:  1,200-1,500 pounds
Size: 13' x 7'6"
Number of Guests: 4
Price: $12,395
Specs: Scamp 13' Standard Trailer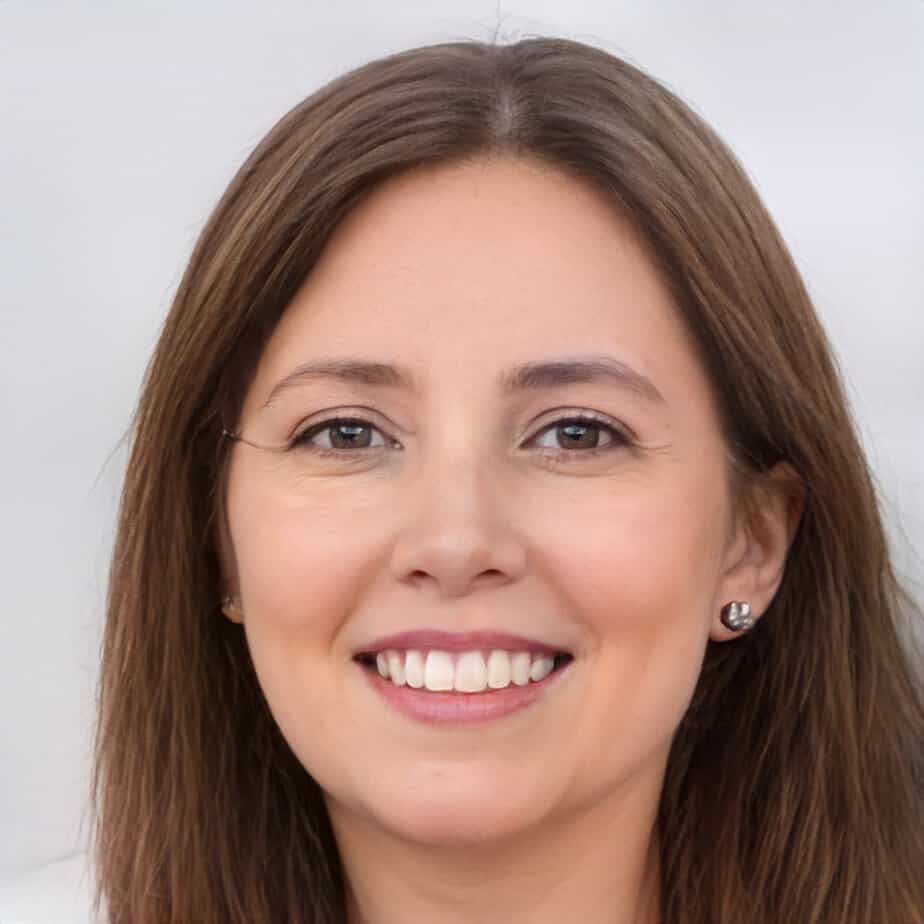 Jill Miller is the founder of Your RV Lifestyle. Trading corporate America for the open road, Jill, along with her partner Jose, began their RV journey, making an unconventional start by wintering in New Jersey. A natural adventurer, she was motivated by a desire to explore the USA and beyond, embracing the varied landscapes, communities, and cultures across the country.
For Jill, the allure of RV living was not about material accumulation, but rather the pursuit of an adventurous, fulfilling lifestyle. A lover of golf, bicycling, hiking, and line dancing, she has carried her passions across the country, engaging with them in diverse settings. Jill's commitment to the RV lifestyle came after years of careful research, numerous consultations with RV owners, and personal trials, including living in a rental RV.