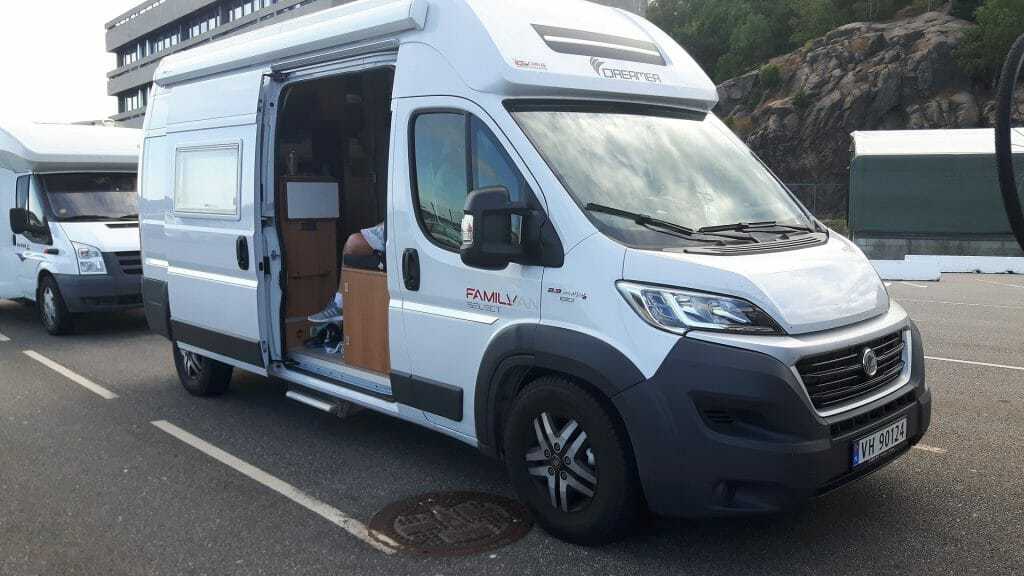 This high-top van is only one of several different kinds of camper vans and class B motorhomes.
Camper vans and class B motorhomes are the perfect RVs for people who want to go camping – and fast. But did you know that there are several different subtypes within this category? With all the options available, it can feel overwhelming to know which one is right for you.
If you want an RV that you don't have to tow, can set up quickly, and can be easy on your budget, then chances are you'll like having a camper van or Class B motorhome. This guide will give you the pros and cons of six different subtypes so you can make an informed decision about which one is best for you.
Camper Van and Class B Motorhome FAQs
Before we get into the pros and cons of all the different subtypes, let's go over a few frequently asked questions about this class of RV.
1. What are the pros and cons of camper vans compared to larger motorhomes or tow RVs?
Their small size might seem off-putting, but there are several reasons why camper vans are fun to own:
Low gas mileage saves on fuel costs
Maintenance can be easier and cheaper
Smaller rigs can run off solar energy
Small campers are more nimble and can go places larger RVs can't
They're quick and easy to set up when camping
They don't require as much room when storing them during the off-season
There are more customization options if you want to build a camper that is unique to you and your needs
As far as we know, there's only one big con to camper vans, and it's that they're limited on space. Some are so small that you can't stand up fully inside, and some don't have bathrooms!
Looking for a more thorough comparison of different RV types? Check out these differences between class A, B, and C, or review this guide to choosing a motorhome versus a towed camper.
2. What are the different kinds of camper vans?
"Camper van" is an umbrella term referring to a small motorhome on a van or truck chassis. Within this category, there are several different subtypes, including:
Class B motorhome
Class B+ motorhome
Conversion van
Volkswagen van
Sprinter van
Cargo van
Things to Consider Before Choosing Your Van
If you're on the fence about what kind of camper van to get, this is the right time to rent instead of buying an RV. You can learn what features you like and value and try out a few different models before committing to one.
Size
While camper vans/Class B RVs are, on a whole, the smallest motorhomes available, they still come in a wide range of sizes. From smallest to largest, they are:
Volkswagen vans
Cargo vans
Conversion vans
Sprinter vans
Class B
Class B+
Before deciding on what size van you want, think about how you plan to use it. Do you want to spend time exploring dirt roads, boondocking, and taking advantage of free campsites, or are you only interested in staying in developed campgrounds and RV parks? A smaller, more rugged camper is better for the former, while a Class B and Class B+ works great for the latter.
If you want to do more off-grid camping but you aren't sure how to make do with a small van, check out these 15 space-saving solutions for small RVs.
Customization Options
How much do you want to customize your camper van? Do you want a vehicle that is "turn-key" and ready to hit the road tomorrow, or do you have specific design ideas you want to build yourself? Here's a general overview of what vehicles are best suited for each option:
No customization required: Class B, Class B+, professionally converted Sprinters and high-top vans
Customization optional: Conversion vans, Volkswagen vans
Blank slates: Sprinters and high-top vans, cargo vans
If you're looking for customization ideas, check out this list of the ultimate RV upgrades.
Gas Mileage
Although camper vans on a whole get better gas mileage than their larger cousins, there is still some variation within the class. For example, older Volkswagens will likely only get 16-17 miles to the gallon, while a newer Class B or Sprinter with a diesel engine may get 22+ miles to the gallon.
Here are a few tips for how to save on fuel.
Maintenance
The van that is most notorious for needing a lot of maintenance is Volkswagen. These vans are usually several decades old and need a lot of TLC to keep them running.
Class B, Class B+, and Sprinter vans will need specialty parts, but if you buy one in good condition, it will be a reliable vehicle that will go for long periods between needing maintenance done.
Conversion and cargo vans are probably the easiest to maintain. These are common vehicles that many mechanics are comfortable working on.
Budget
In general, Class B, Class B+, and Sprinter vans are going to be the most expensive options in this category. Some Class B+ are well over $100,000. We bought our 2006 Sprinter with about 100,000 miles and some customization for about $30,000.
Cargo vans and conversion vans are usually the most budget-friendly choice. Volkswagen vans are pricey to keep maintained and fall somewhere in the middle of this category.
Need help figuring out the fair market value of an RV? Read this guide before you start shopping.
Class B Motorhome
A traditional Class B motorhome has the chassis of a van or truck with living quarters that are reminiscent of a Class C but much smaller. They have a rectangular body and sometimes a sleeping area over the cab. If they have a slide-out, it's usually a small one.

Class B campers have a rectangular body and are usually small enough to fit into one parking spot. 
Pros to Class B Motorhomes
There are many advantages to a Class B motorhome. Here are just a few:
It's more like a traditional RV with many of the same amenities as Class A or Class C motorhomes
It takes up just one parking space
It's already built out and ready to hit the road
There's more headroom compared to other camper vans
It's easy to title and get it insured as an RV
Cons to Class B Motorhomes
On the other hand, consider these downsides:
Older models may need some refurbishing of the interior before you can use it
There's not much "garage" storage for things like bikes, skis, and other outdoor equipment
Class Bs have a bulky profile that's not ideal for off-road adventures
Class Bs aren't as easy to customize as other vans in this guide
Class B RV Final Notes
For someone new to RVing, a Class B motorhome is a good camper to own. They don't need any additional conversions, they're easy to find used, and they aren't difficult to store. Consider renting one before you buy it to see if you like it.
Rent on a Class B
Want to try a Class B for yourself? There are likely several rental options in your area.

The Thor Motor Coach Gemini represents the latest in Class B technology. 
This Thor Motor Coach Gemini has an incredibly spacious interior with a queen bed that slides out in back. This particular make and model is currently setting the standard for luxurious Class B RVs and is a great place to start if you're testing the waters. 
Class B+ Motorhome
Class B+ motorhomes are relatively new to the RVing scene. They're best described as halfway between a Class B and Class C. Like a Class B, they're built on a van or truck chassis. However, they tend to be longer and have one or more slide-outs. Don't be surprised if you start seeing more of these on the road.
Pros to Class B+ Motorhomes
If you're looking for a camper with more space and amenities, a Class B+ might be the right fit for you. Benefits include:
It has the most space out of any van or motorhome in this category
It can accommodate more passengers and sleeps more guests; some models can sleep up to eight people
Cons to Class B+ Motorhomes
A Class B+ won't be for everyone. Here are some of their negative qualities:
It gets poor gas mileage compared to Class B or smaller camper vans
It requires more interior maintenance over time
It's significantly pricier than smaller camper vans, with some models priced at over $100,000
Class B+ RV Final Notes
If you like the convenience of a Class B but want a little bit more room, consider trading up for a Class B+. However, these also tend to be the most expensive of all the camper vans on this list. For more information about this emerging RV type, click here.
Rent a Class B+
Want a taste of the Class B+ life? This rental in Florida is built on a Sprinter chassis and is packed with luxury. 

This Class B+ rental is longer and wider than most campers in its class, but it comes with more bonuses, too.
This 2015 Leisure Travel Serenity is about as good as it gets when it comes to Class B+. The spacious interior has a beautifully appointed kitchen with a full-size refrigerator. There's also a full-sized shower and leather seats throughout.
Conversion Van
Conversion vans are full of 1990s charm and make it possible for people with even the slimmest budgets to get out and enjoy life on the road. These vans have a high top conversion on top of a van such as a Chevy Express, Dodge Ram Van, Ford Econoline, or GMC Savana.

This Chevrolet conversion van has a high-top that offers more headroom while camping.
Pros to Conversion Vans
Interested in a conversion van? Here are the big advantages:
Some are already built out for camping
There's plenty of headroom
You can find used vans with low miles at an affordable price point
Less need for specialty parts when it comes to maintenance
Cons to Conversion Vans
Before you sign on the dotted line for a conversion van, remember these disadvantages:
If you want to do a custom conversion, you'll likely have to gut the van
There's no space to add a separate bathroom
You'll likely have to insure it as a passenger van instead of an RV, which means you'll have a higher premium
Final Notes
Conversion vans are proof that you don't need a big budget to start RVing. For only a couple thousand dollars, you can into a road-worthy vehicle that already has a few camping necessities.
Rent a Conversion Van
If you're on the fence, rent a conversion van before you buy one.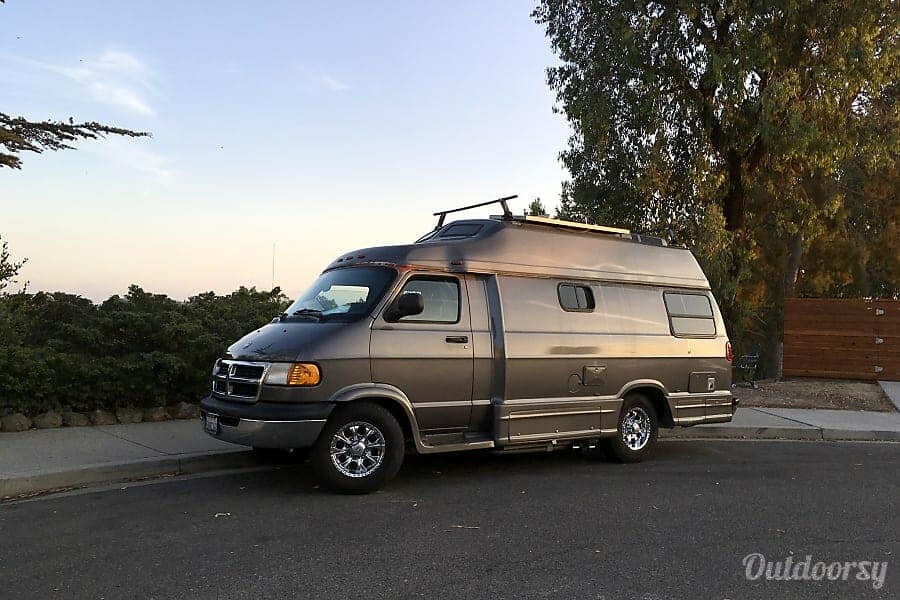 This conversion van features a ton of luxuries inside a small package.
This Dodge Pleasure Way doesn't look like much on the outside, but the inside is chock full of features that you'd hardly believe could fit into one van. There's a full kitchen as well as a bathroom with a toilet, sink, and shower. The one big downside is that it only sits two people legally.
Volkswagen Vans
Few things are more iconic than watching a mid-century VW bus (also known as a Kombi) ramble down the highway. These vintage vans are bursting with nostalgia and made for minimalist campers. A variation of this is the Westfalia camper, which is more rectangular and comes with a pop-top for more headroom and sleeping area.


You can convert a Volkswagen van into a camper van with plenty of amenities and all the nostalgia.
Pros to Volkswagen Vans
If you love the look of these vintage vans, a Volkswagen might be for you. They also have these advantages:
Come with converted interiors that are ready for camping
Minimalists will love the frills-free amenities
Fun and nimble to drive; can go almost anywhere
There's a big community of aficionados, dedicated mechanics, and after-market accessory makers
Pre-computerized engines are great for people who love to learn the ins-and-outs of mechanics
Cons to Volkswagen Vans
It's far from easy to own one of these vans. Consider these downsides:
It's difficult to make significant customizations to their interior
Their rise in popularity has lead to a rise in prices
Due to their age, they need near-constant maintenance; expect to spend a lot to keep the motor running
Final Notes
Volkswagen vans are the go-to choice for vintage lovers and engine tinkerers. Just because they're old doesn't mean that they're inexpensive to own. If you're set on owning this kind of camper van, take time to research what you should look for before buying a Volkswagen.
Rent a Volkswagen
Try out a Volkswagen van for yourself for between $100 and $200 per night.

This compact Westfalia provides all the luxuries of a larger RV.
This 1990 Westfalia has two sleeping berths and can accommodate four people. There's also all the amenities you'd expect from a larger RV but in a smaller package, including a propane stove, sink, potable water tank, refrigerator, freezer, water hookup, and electric hookup.
Sprinter Van
Sprinter vans typically refer to high top Mercedes Sprinters. Amazon Prime delivery vans are the most common example. However, many people have begun converting these spacious vehicles into upscale RVs. Vans with similar body styles include Ram Promasters and Ford Transits.

Converted Sprinter vans are becoming more and more common in the RVing world.
Pros to Sprinter Vans
A Sprinter or similar high-top van might be for you if you're looking for these benefits:
High-top models have plenty of headroom
The blank canvas and ample space allow you to customize them however you want
You can buy them already converted by a company such as Airstream, Winnebago, or Outside Vans
Diesel engines get great gas mileage
You can get a 4×4 model of more off-road adventures
Cons to Sprinter Vans
As with all things, these vans come with their downsides, too:
Getting them properly titled and insured as an RV can be tricky; you'll likely need to title and insure it as a passenger van
Newer model Mercedes Sprinters have sensitive computer equipment and emissions gauges that require lots of upkeep
Parts and maintenance can be pricey, especially on newer models
Sprinters with low miles come with a high price tag
Rent a Sprinter
Take a Sprinter for a test run before committing to one of your own.

This 2005 Sprinter has the longest available wheelbase on the market, making it one of the most spacious vans around.
This 2005 Sprinter has an extra long wheelbase for a truly spacious interior. While the outside looks a little dated, the interior features a full dining area that converts into a large bed. The van can also legally seat four people while driving, so you can take the whole family along for the ride.
Sprinter Van Final Notes
It's easy to see why Sprinter vans are becoming so popular. They have dependable engines, plenty of headroom, and are fun to convert. Plenty of companies also offer professional conversions. However, because they're becoming more popular, they're now more difficult to find used. This guide will give you some hints about where to find one.
Cargo Van
The cargo van is a close cousin of the conversion van. They are usually a van such as a Ford Econoline, GMC Savana, Chevy Express, but without the added high-top. Plumbers, electricians, and other tradespeople often use these vans in their business, but many budget-travelers have discovered that they make excellent customized campers.

It might not look like much, but some camping enthusiasts are finding that these plain white cargo vans make the perfect foundation for the rig of their dreams.
Pros to Cargo Vans
A cargo van might be the right foundation for the camper of your dreams. They come with these benefits:
Their rugged design makes them ideal for off-road adventures
Empty interiors make an excellent canvas for customizations
Maintenance is cheaper than Sprinters or Volkswagens
Cons to Cargo Vans
However, there are also some disadvantages:
Since they're used extensively by tradespeople, it can be hard to find one used with low gas mileage
There isn't any headroom
You'll need to be creative about how you use space
Cargo Van Final Notes
The cargo van camper gives you the blank slate of a Sprinter but at a price that rivals the conversion van. They're also easier to keep maintained than a Sprinter or larger camper van. However, unlike a conversion van, it's difficult to find one with low mileage. Keep your eyes peeled on a used car site for the right one to come along.
Rent a Cargo Van
Before you turn your nose up at the idea of camping in a cargo van, check out this sleek and modern rental.

This Ford E350 proves that cargo vans can be campers, too.
The pop-up top turns this modest Ford E350 van into a fully functional camper that sleeps four people. All the fixtures inside are like new, including the stove top, sink, and refrigerator. The pop-up top adds ample headroom and an additional sleeping berth.
Final Verdict: Which Camper Van or Class B Motorhome Is Best For You?
Personally, we have a 2006 Sprinter that we customized ourselves. For us, it was the perfect size – not too small and not too big – and wasn't prohibitively expensive. We love that we can take it boondocking just as easily as we can pull into a nice campground.
You likely have different preferences and expectations for your RV. As long as you're clear about your size needs, customization desires, and budget, there's a good chance that the camper van or Class B motorhome of your dreams is out there.
Jill Miller is the founder of Your RV Lifestyle. Trading corporate America for the open road, Jill, along with her partner Jose, began their RV journey, making an unconventional start by wintering in New Jersey. A natural adventurer, she was motivated by a desire to explore the USA and beyond, embracing the varied landscapes, communities, and cultures across the country.
For Jill, the allure of RV living was not about material accumulation, but rather the pursuit of an adventurous, fulfilling lifestyle. A lover of golf, bicycling, hiking, and line dancing, she has carried her passions across the country, engaging with them in diverse settings. Jill's commitment to the RV lifestyle came after years of careful research, numerous consultations with RV owners, and personal trials, including living in a rental RV.